"International Connections 2" is the title of Masar's 3rd album.
12 original songs featuring Ransom & Hitchcok [A Team], JR Writer & 40 Cal [Dipset], Lagato Shine [IGT], Glory Warz [Kool G Rap's artist], Masar, Paladino, Denice Heywards… & much more
All tracks has been produced, mixed & mastered by Masar.
VIDEO TEASER
[International Connections Vol 2]
Check out this video Teaser Mixed Dj Blastone & Edited by Masar_Tv
The album is available NOW for only $4 on masartv.com, iTunes & 85 other digital platforms. Some platforms like VirginMega.fr & Fnac.com are for European/Overseas residents only and are not covered by any US Digital Distributors.
If you never heard Masar's beats before, here is his 1st & 2nd album [all beats produced by Masar Productions]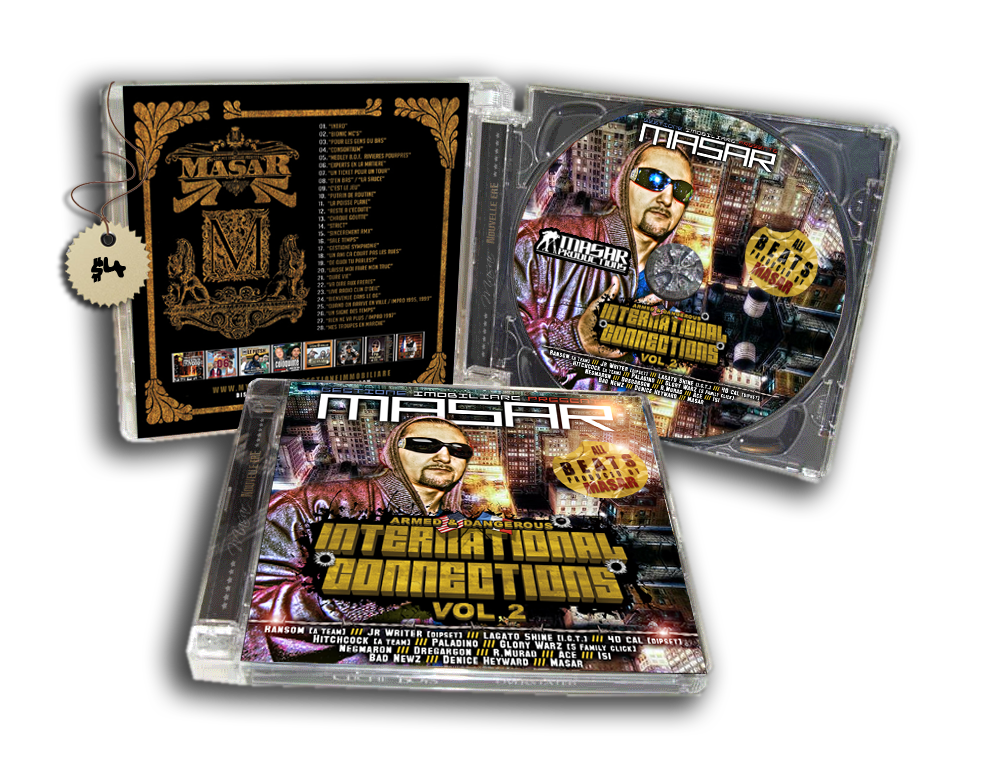 TRACKLIST
[International Connections Vol 2]
01. Paladino "Keep It Gangsta"
02. Isi "Shyne Like Us"
03. Denice Heyward "My Favorite Ex"
04. Glory Warz "Poppin Main"
05. Negmaron "Slow Down"
06. 40 Cal, Ransom & Jr Writer "Beef At Ya Mother House"
07. R. Murad "Suddenly"
08. DreGargon "Informers"
09. Paladino, Lagato Shine, Hitchcock & Masar "Most Wanted"
10. Bad Newz "Rock Stars"
11. Ace "Burna"
12. Paladino "Harlem"
CD COVER [Designed by Masar]
[International Connections Vol 2]


MUSIC VIDEO
[International Connections Vol 2]
Glory Warz "50 Grand Poppin"
[Produced, Mixed, Mastered, Directed & Edited by Masar]
CD COVER [Designed by Masar]
[International Connections Vol 1]
TRACKLIST
[International Connections Vol 1]
00. 00:00 – Intro [Teaser]
01. 04:27 – Paladino Feat Masar – International Imobiliare
02. 09:22 – Paladino Feat Masar – Get This Money
03. 14:30 – Geolani Feat Lieutenant – We Ride Too
04. 20:18 – Elsha Feat Hamza – Lights Camera Action
05. 24:49 – Big Skeem – Put Em Up
06. 29:28 – Paladino Feat King Weez & Dj Blast – You Already Know
07. 33:25 – Blu Black Feat Atlas – If You Don't Love Me
08. 37:45 – Masar, Hamza, Souli, Lt & Paladino – Les Gestionnaires Part 2
09. 45:46 – Goldie Feat Bronco & Ace – Indeniable
10. 49:33 – Sola Rey – Keep It Sexy
11. 54:11 – Them City Boyz Feat Souliman – Real World
12. 59:53 – Prolifik Feat Dj Masar – Rhyme Till I Die
13. 64:32 – Paladino – Float
14. 69:04 – Young Flowz – F.L.O.W.Z
MUSIC VIDEO
[International Connections Vol 1]

Paladino Ft Masar "International Connections"'
[Produced, Mixed, Mastered, Directed & Edited by Masar]
 Masar 1st Album "New Era"