Green Screen Studio Rental in New York City
Rental space for photography and videography in New York City.
Masar Tv provides studio rentals for photo shoots, video shoots and private events. We have two studios, one with a Cyclorama Wall and the other with plenty of Daylight. We are located in Brooklyn NY. Only 15 mins away from Union Square. Our studios have very high ceilings, plenty of space and are great for Green Screen Video Shoots, Photo Studio Shoots, Screening Event, Art Expo, Fashion Shows.
We've kept our rental process simple and our policies at a minimum; all to ensure that you can spend less time filling out paperwork and more time enjoying our space. To get start with your studio session, follow the instructions bellow. If you have any questions you want to ask before working with us, please call/email us here with your inquiry.
Purchase the Studio package that is closer to your budget.
Once the 50% deposit has been made. Our Manager will contact you immediately to schedule a day and time for your session.
Masar TV Studio A is located on 63 Meadow St - Brooklyn, NY 11206
Masar TV Studio B is located on 23 Meadow St - Brooklyn, NY 11206
Yes, Take L train and stop on Grand St. station. Our facilities are 5 minutes away by walk.
Frequently Asked Questions
Please don't arrive early as the studio may be occupied or we may be resetting the space or away from the location or even taking a break. ;-)
Yes, If you want to visit our facility before booking a session, please contact us to schedule an appointment.
Your booking time must include both setup and breakdown time. If your shoot is running behind schedule, please ask to extend your booking before the end of the shoot. It will be allowed if there is not another booking in the space. All additional time is in full hour increments.
Lights
One Profoto Acute 2400R pack with 1 head | Extra $50
One Profoto Acute 2400R pack with 2 heads | Extra $75
Two Profoto Acute 2400R Packs with 3 Heads | Extra $100
Kino Flo 2×2 Bank System | Extra $50
Arri 1000k Tungsten Open Face + Barndoors | Extra $50
Background
Black, White, Grey, or Green Extra Seamless Paper | $25 Per Pull
Brand New Savage Seamless Roll | Extra $65
Brand New Savage Seamless Roll | Extra $65
Modifiers
Chimera Softbox, Silver 54×72′ | Extra $30
Octabox, 60′ | Included
1st Westcott 84′ Parabolic Umbrella W. Diffuser | Included
2nd Westcott 84′ Parabolic Umbrella W. Diffuser | Included
Silver Parabolic 64′ Umbrella W. Diffuser | Included
Modifiers
Roller + Mega Boom | Extra $45
---
Space Rental | Prices
Starting at $150 per hour
Space Rental | Studio A
2 hours minimum

17ft cyclorama wall

1500 sq space

50ft long x 30ft wide

15th high ceiling

Street access

Drive in access

Open from 7am to 11pm
Space Rental | Studio B
2 hours minimum

9' Seamless Backgrounds Included

Extra Seamless Paper | $25 Per Pull

1000 sq space

40ft long x 25ft wide

15th high ceiling

Freight elevator

Open from 7am to 11pm
Studio A
Starting at $250 per hour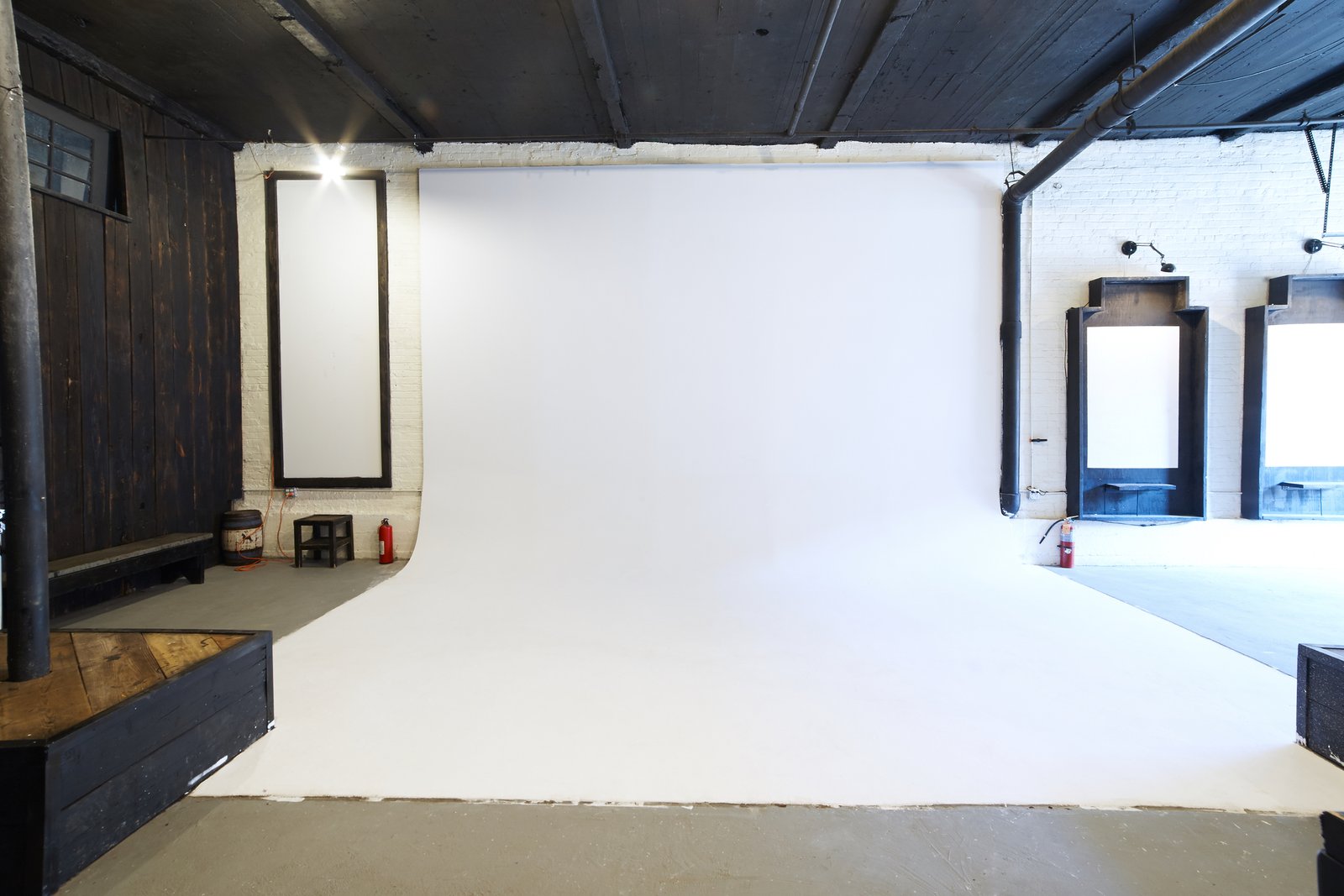 Studio B
Starting at $150 per hour