VIDEO
Goodfellas "Wasted" | Dir./Edited by Masar
---
GOODFELLAS | BIOGRAPHY
Hailing from the streets of Flatbush, Brooklyn, Young Dre is an aspiring rapper whose about to break through the clutter of obnoxiously flossy MCs. Drawing inspiration from rap legends like 2pac, Notorious B.I.G and LL Cool J, Young Dre made a name for himself by sticking to his raw street style and spitfire delivery. Dre's musical gifts first became apparent at the tender age of 5 years old, when his mom Gillian would have him recite lyrics from her favorite songs. She didn't know at the time that his innocent impersonations would soon flourish to produce an immense gift.
During the hip-hop golden age, as rap groups like Wu-Tang Clan, Criss-Cross and A Tribe Called Quest permeated mainstream culture, Young Dre became dedicated to his craft. In 1993, Young Dre met his childhood friend and future partner in crime Dominick Phillips aka Dom P. From there, the two formed the group Goodfella Movement. Musically, the duo made magic together. They transformed the struggles and stresses of growing up in Flatbush into raw, honest lyrics.
At 17, Dom P was arrested on drug charges and sentenced to a year in prison. At that time, Dre packed up and moved to Kentucky to regroup and escape the city life for a while. Their time apart helped them both evolve lyrically and hone in on their talents. Building the beats, lyrics, and melodies all from the ground up, Goodfella movement captured their own unique sound and in 2007 joined forces again – this time synching up with a neighborhood friend and 3rd member of the Goodfella Movement, Fusha.
If you're keen on rap lyrics that boast about Betley's, Rolexes, and making it rain, the Goodfella Movement isn't for you. "What inspires the Goodfellas to write music is the day to day struggles of life that everybody can relate too," says Young Dre. "We all go through it; fat, small, big, tall, sick, poor, rich, pretty, ugly. We all are human and that's what inspires me." Read more
---
GOODFELLAS | WEBSITE [Developed by Masar]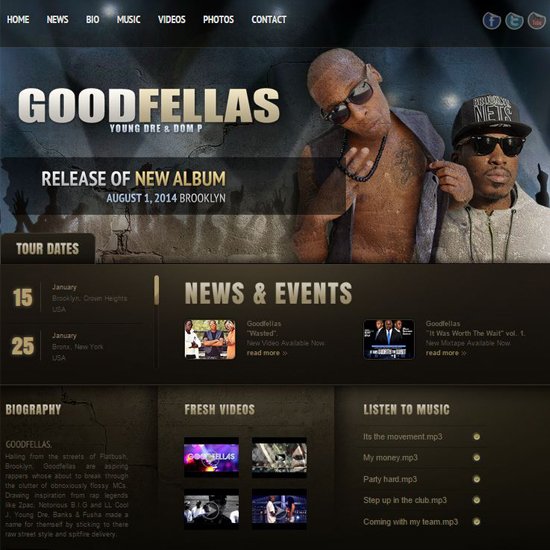 ---
GOODFELLAS | MUSIC
Goodfellas Music has just released their second mixtape, "It Was Worth The Wait vol. 2" In addition to the Goodfellas Team (Young Dre, Fusha and Dom P aka Banks), the mixtape features the likes of Fred Da GodSon and Boots and Chyna Black.
---
GOODFELLAS | CD COVERS [Designed by Masar]


---
SCREENSHOTS