Max B's new EP titled 'House Money' includes the single 'Goodbye' featuring Cam'ron & Dave East which has been produced by Speedy Babyy & Masar Tv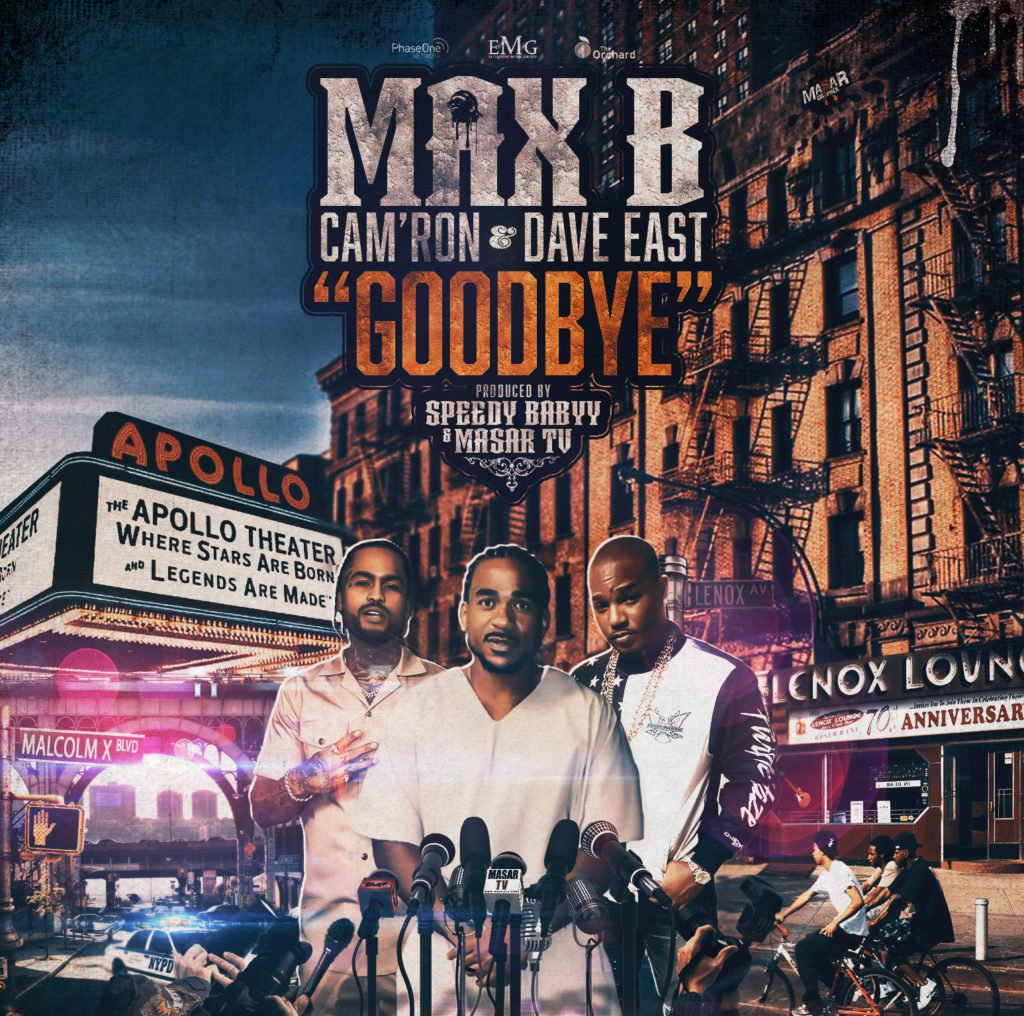 It's been almost a year since my latest single "Super 8" has dropped, so I'm excited to announce the release of "Goodbye" a new record with my bro Max B for his new project titled "House Money".  
For the past 10 years, I haven't produced too many beats, but I like to believe that the few records that I've carefully crafted during that time demonstrate my ability to produce great songs. For those unfamiliar with my production work, I'm enclosing a shortlist of a few songs that I've worked on:
'BAYMH' feat. 40 Cal, JR Writer, Ransom 
'A lie' feat. French Montana, Max B, The Weeknd
"Paid for" feat. French Montana, Max B, Chinx
"Super 8" feat.

A Mafia, Meeno, 40 Cal, Jr Writer, Gunplay, Charlie Clips, and Chris Webby
"Goodbye" features two well-established Harlem artists such as Cam'ron and Dave East. A lot of Max's fans were waiting for the day when he and Cam will finally get to work again together since their latest collaboration dated from 2006 with the tracks "You gotta love it" (Jay Z diss) and "Pin the Tail'.
On my end, for many years, I've worked with Dipset & U.N affiliates such as 40 Cal, Jr Writer, Charlie Clips, Bird Lady, A Mafia, Vado, Herb Mc Gruff,  Duke Da God, Araab Muzik… doing music videos, behind the scenes, interviews, graphic designs, bookings, management, etc, so it is a great pleasure to finally collaborate with the instigator of the Diplomats movement himself.
I've been a true supporter of Cam's music since the Children of the Corn mixtape. I remember when in the late '90s, @artefr used to continuously broadcast a short documentary titled Harlem, USA (link HERE) with him and Bloodshed (RIP).
As for my work history with Charly, f we had achieved too many accomplishments for me to list them all, but some of the highlights could be the followings: 
Recorded, Mixed, and Mastered hundreds of studio tracks and over the phone freestyles to generate revenues for his commissary.
Filmed and edited the "Wavy Baby" documentary which was released as a physical BluRay and not a standard DVD. Having a BluRay in the streets was something that had never been done by an independent artist at that time.
Renewed his monthly petition that I've created with whitehouse.gov to have his case reviewed by the Obama's administration.
Developed supportmaxb.com/blog

his official website and blog in order to collect online donations for his legal representation, and keep his fans informed with weekly posts and updates related to his case.
Started his Instagram account and spent a substantial amount of time creating positive and well designed promotional contents that did him justice and kept his name relevant at a time where not too many celebrities were showing support (mostly due to him losing his appeal and not being able to ever come home).
Had his Instagram account verified. This was not a walk in the park since the tedious verification process had my inquiry rejected multiple times for the past few years.
Shout out to PhaseOne and @prisonkiosk for making it happen. As you can imagine, getting Max B to record music inside the different correctional facilities where he has been transferred was not an easy process and required a lot of effort on both sides of the wall.
More music soon to come with my bros Hal, Dj Elyes, Brilliant Corners, and Speedy Babyy. Stay tuned.
Check out the full tracklist for M ax B "House Money" below:
Take My Time

Super Bad ft. French Montana

Ride on Em ft. Jadakiss

So Cold ft. A Boogie wit da Hoodie

Never Change ft. Wiz Khalifa

Goodbye ft. Cam'ron & Dave East (Prod by Speedy babyy & Masar Tv)

Champagne Wishes ft. A$AP Ferg
#freemaxb #prisonkiosk