French Montana | Electronic Press Kit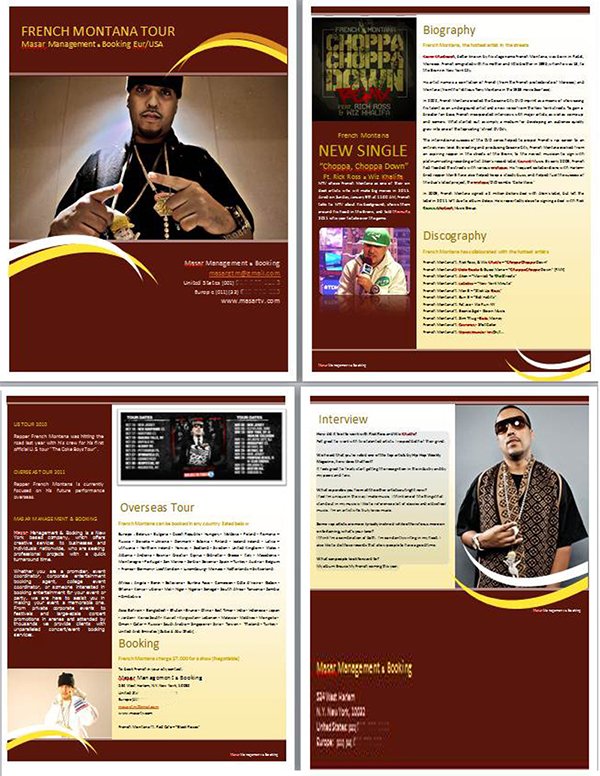 FRENCH MONTANA BIOGRAPHY

Karim Kharbouch, better known by his stage name French Montana, was born in Rabat, Morocco. French emigrated with his mother and little brother in 1996, when he was 13, to the Bronx in New York City. His artist name is a conflation of French (from the French protectorate of Morocco) and Montana (from the fictitious Tony Montana in the 1983 movie Scarface).

In 2002, French Montana created the Cocaine City DVD imprint as a means of showcasing his talent as an underground artist and a new voice from the New York streets. To gain a broader fan base, French incorporated interviews with major artists, as well as some up and comers. What started out as simply a medium for developing an audience quickly grew into one of the top-selling "street DVDs". The international success of the DVD series helped to propel French's rap career to an entirely new level.

By creating and producing Cocaine City, French Montana evolved from an aspiring rapper in the streets of the Bronx, to the newest musician to sign with platinum-selling recording artist Akon's record label, Konvict Music. By early 2009, French had flooded the streets with various mixtapes. His frequent collaborations with Harlembred rapper Max B have also helped keep a steady buzz, and helped fuel the success of the duo's latest project, the mixtape/DVD combo "Coke Wave."

In 2009, French Montana signed a 2 million dollar deal with Akon's label, but left the label in 2011 left due to album delays. He is reportedly close to signing a deal with Rick Ross's Maybach Music Group.